Best headlamp for hunting 2019
Welcome to our hunting headlamp guide. We hope that this article helps you decide which headlamp is best for you when going hunting.
If you are a hunter, you will come across the need to get your hands on the best hunting gear available out there. That's where you should take a look at the best headlamp for hunting as well. The headlamp you purchase is in a position to provide a great helping hand throughout the hunting. Hence, you will fall in love with the functionality that it can offer to you.
Since there are different options available in the market, we thought to provide you with a list of the best headlamps that can be used for hunting purposes. Any person who wishes to get hold of a headlamp for hunting can go ahead with these and pick one out of them.
Streamlight 61070 BuckMasters Trident is a moderately priced headlamp available for you to purchase. It provides the chance to illuminate objects that are located over 126 meters away. Therefore, you will fall in love with the performance that this beefy headlamp can offer you.
You will be able to power up this headlamp with AAA batteries. It is better if you can keep some extra batteries along with you while you go on hunting. You can get three different levels of output from this headlamp. Moreover, you will also notice that it can offer both white as well as green LED colors. You can use the most appropriate color based on your preferences and outdoor conditions.
The headlamp is IPX4 rated as well. Hence, you don't need to worry too much about waterproofness.
Like other Nitecore headlamps, this product is also really high-end and top of its class. Although that headlamp is designed for caving, it is also really good for hunting.  This headlamp is really powerful with 1000 lumens of max output. In addition, the maximum light beam distance is almost 600 yards and battery life is 220 hours!!!  It has a separate battery case which you can attach on your belt or put it in your pocket. That battery case is made from aluminum and the power court is made from really tough material. You can you this battery case as a power bank also.
You can't go wrong with this.  This headlamp is of premium quality and it is really built to last! You will understand when you hold it in your hands!  You can also find several reviews about this product from youtube!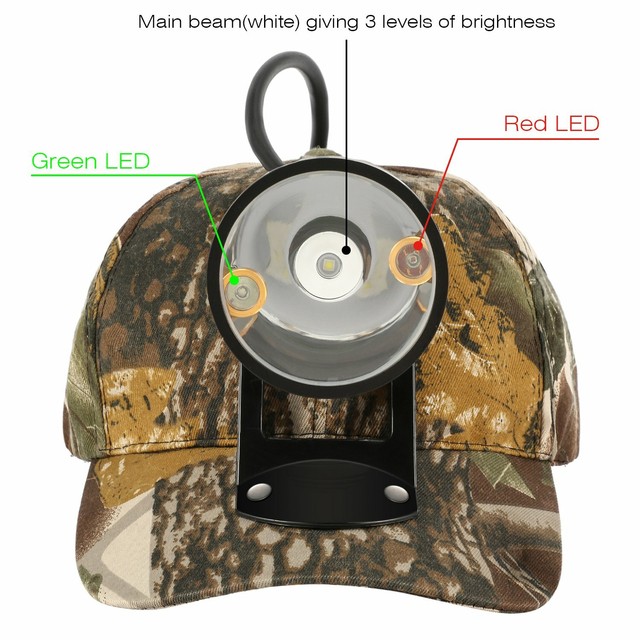 Kohree CREE 80000 LUX LED is a popular headlamp among hunters out there in the world. If you are going forward with hunting under low light conditions, you will be able to get an excellent performance out of this product. One of the most impressive features that you can find in this headlamp is that it has a flood beam. Hence, you can make sure that nothing is left out from your sight.
Battery life offered to you by Kohree CREE 80000 LUX LED is quite impressive as well. You will be able to use the headlamp for around 12 hours with a single charge of the battery. There are five different power settings offered along with the headlamp. Hence, you can get an enhanced experience while you are using it while hunting.
Black Diamond is a brand that has been able to maintain a solid reputation throughout the past by manufacturing highly reliable outdoor lights. Therefore, any person who wishes to buy a headlamp for hunting can take a look at what is offered by Black Diamond as well. That's where Black Diamond Storm Headlamp would come into play. You will be able to get an outstanding performance from this headlamp at an affordable price tag.
One of the best things that you can see in Black Diamond Storm Headlamp is that it has been designed to cater a variety of requirements. For example, you can get a long-distance focus beam with it. Along with that, you will be able to get a diffuse beam, which can help you to get close-up visibility of a bigger area, without having to strain the eyes. It comes along with a waterproof sealed housing as well.
If you are concerned about the light output given by the headlamp, you are should think about getting hold of InnoGear 5000 Lumens Headlamp. This headlamp can deliver an excellent output of 5,000 lumens to you. On the other hand, you can get a waterproof design out of it as well.
InnoGear 5000 Lumens Headlamp can deliver a versatile experience to you as well. Therefore, you will love to use the headlamp in different settings. However, it is also important to keep in mind that this headlamp comes with a relatively low battery life, which is around five hours. Another cool feature is that it has a USB outlet – so you can charge you phone, camera etc with that.
GRDE Zoomable Headlamp is a product that comes along with zooming beam focus. In addition to that, it includes USB cables, car charger and a wall charger as well. You don't have to spend a lot of money to get hold of this headlamp as well.
The GRDE Zoomable Headlamp provides an output of 1,800 lumens. On the other hand, you will notice that it has got two different brightness settings. You can go through the options and pick the best one out of them depending on your preferences. Depending on the output you select, you can get a battery life of around 4 to 7 hours from this headlamp. Hence, it is a good product available to consider.
Thank you for reading outpost about the best headlamp for hunting. We hope it was helpful and you now know which headlamp to choose!  If you have any questions or suggestion about the topic, let us know!