Fenix E16 EDC – Full product review
Introduction of Fenix E16 EDC
The Fenix E16 EDC is a small but powerful 700 lumen LED flashlight. Although small in size, it is not lacking in performance. In short,  at a length of only about 2 inches and a weight of 0.77 ounces, this ultra-compact light packs a lot of punch. For instance, a few of its perks include intelligent memory circuit and overheat protection.
The E16 would be very fitting for your EDC (everyday carry). Crafted with premium material throughout, this lamp proves to be a valuable resource for just about any outing or adventure, meanwhile providing quick charge time whenever necessary via USB plugged directly into the 16340 battery.
It comes with all the standard features such as different brightness outputs, solid body, two-way body clip, and many more as we'll explore in our Fenix E16 review below. So if you are interested in this EDC flashlight, we definitely recommend reading the review below.
Inside the box you'll find:
Its inclusive package comes with a number of excellent accessories. In short, this light comes with pretty much everything you need without having to purchase anything separately. Also, there is an option to buy as a bundle including the rechargeable battery.
Included Accessories
Fenix E16 Flashlight
Lanyard
Key Ring
Spare O-ring
E16 User Manual
Warranty Card
Information Leaflet
How is Fenix E16 different from their previous products?
E16 is a bit of an upgrade from the previously released Fenix E15. To clarify, this light is also pocket-sized though a bit larger at about 2.6 inches. It features a twist top to switch through modes as opposed to the side switch toggle. E15 has four modes but does not include strobe.
To clarify, there were actually two models of the E15 released. The first one with a max output of only 120 lumens while the second was retooled and now has a max of 450 lumens.
The second release was a nice upgrade to the threads and a few other quirks like skipping modes and battery rattling. It seemed to work out all the kinks from the first model and check all the right boxes.
Fenix E16 steps it up just one more notch. Firstly they added another 250 lumens, side switch operation, a strobe setting. Also, a magnetic base and a cool clip that works in either direction were added. In addition, it's about a half in shorter and 0.8 grams lighter putting it over the top for a light of its small size.
Fenix E16 EDC – The User Experience
Product Overview 
Fenix E16 is constructed using durable high-strength oxidation-resistant aluminum and built to endure daily use. Moreover, it is equipped with a wealth of unique features including a specially designed and coated lens that is ultra-thin, coated with a clearing agent for extra clear vision and a smooth stable beam.
This EDC is only about the size of your thumb, but it boasts an array of features almost beyond belief for a light of its size. For example, some of these features include low voltage battery warning, reverse polarity protection to prevent from inserting the battery incorrectly, two forms of lockout protection and a magnetic tail for hands-free lighting. Moreover,  it has a peak beam distance of 142 meters (465 feet) and a beam intensity of 5050 cd.
In addition, it is IP68 rated. So it's submersible up to 2 meters or 6.5 ft. for 30 minutes and offers 4 output modes plus a strobe setting. Fenix E16 radiates a smooth and steady beam of neutral white light. Therefore it is is easy on the eyes and will easily become your favorite everyday carry.
Built Quality
The Fenix E16 measures in at just under 2 inches long with a head diameter of 0.8" and a body diameter of 0.76". In other words, it's really small. In addition, it's crafted from aircraft-grade aluminum with a premium type HaII hard-anodized, anti-abrasive finish. Further,  it has an ultra-thin lens with automobile optical lens coating.
Handling 
This small light showcases a comfortable and durable design. Firstly, it is equipped with overheat protection which is very good since it seems this light gets pretty hot very quickly in turbo mode. Secondly, when using turbo mode for extended periods of time, brightness will downshift to prevent high surface temperature and damage to the LED. In addition, it has an anti-roll, anti-slip design with comfortable knurling.
User Interface
The Fenix E16 Features a really good stainless steel, copper-colored side switch. It has a 0.5- second press and releases to turn on/off as well as toggle through each brightness level, and a short hold of 1.2 seconds for strobe mode. Therefore it enables fast and easy control.  In addition, it also has a very cool feature that remembers the last brightness level used. So next time you power the lamp,  it returns to it.
Brightness Outputs and Runtime
The Fenix E 16 LED torch offers 4 different brightness outputs with varying degrees of runtimes as well as a strobe setting.  Runtime depends of the type of battery.  
Outputs using a Fenix 16340 Battery

 
| | | |
| --- | --- | --- |
| Mode | Brightness level | Runtime |
| Turbo | 700 lumens | 1hr. 5 min runtime |
| High | 150 lumens | 2 hr. runtime |
| Med | 30 lumens | 11 hr. 55 min runtime |
| Low | 3 lumens | 70 hr. runtime |
| Strobe | 700 lumens | |
Max beam range-142 meters (465 feet)
Outputs using a CR123A non-rechargeable Battery
| | | |
| --- | --- | --- |
| Mode | Brightness level | Runtime |
| Turbo | 300 lumens | 1hr. 5 min runtime |
| High | 150 lumens | 2,8 hr. runtime |
| Med | 30 lumens | 25 hr. runtime |
| Low | 3 lumens | 110 hr. runtime |
| Strobe | 300 lumens | |
Max beam range – 93 meters (305 feet)
Is Fenix E16 EDC for you?
The E16 is made from durable high-strength aluminum. In other words,  is built to withstand the daily abuse everyday carry items endure. So, it is perfect for casual and everyday needs.
Its high settings are great for walking the dog or taking out the trash. Likewise, the low settings are great for reading a book or newspaper. In addition, its clip allows it to be worn as a headlamp on the brim of a hat. So, that, as well as the handy magnetic tail, makes it a great tool for car repairs or anything that requires hands-free use.
Moreover, it is great for camping, hiking, or fishing and not a problem if it happens to get wet. Also,  it is powerful enough in a pinch for any emergency situation like a flat tire or even good just to search for something in the glove box.
So, if previous situations addressed you then Fenix E16 could be the flashlight you are searching for.
Pros/Cons
Pros
This small light has all the bells and whistles for an EDC.
It's affordable, convenient and compact and has pretty much all the features of a larger light at a fraction of the size.
Cons
It gets super-hot in a matter of seconds on turbo mode
battery drains fairly quickly on high and turbo modes.
Price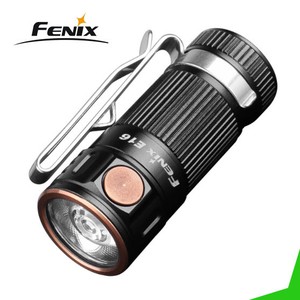 Our rating: 9/10
Final Verdict 
To sum it up, as far as small EDC lights go, Fenix has nailed it with the E16. Above all, this light screams versatility and is compact enough to fit in your pocket. It has an awesome smooth, stable beam, a mode for virtually every situation, and a price that's affordable for almost anyone.
Moreover, it's a great gift for anyone from the avid outdoorsman to a college student or mom. It is an explosion of great features all packed into one small package. In other words, it is extremely impressive and will exceed all your expectations. Once you use the E16, I have no doubt it will easily become your favorite EDC and possibly the best one you have.