Fenix PD32 full review – all you need to know
Introduction of Fenix PD32
Fenix is known for manufacturing quality flashlights. Their PD series flashlights are meant for professionals who need the best products. Due to that, they are powerful, durable and lightweight. Fenix PD32 is no exception in that sense.
PD32 is very popular and well-rated in different magazines. It is a small and compact flashlight that is always easy to carry around. It is made from aircraft-grade aluminum which makes it really strong and tough.
They have manufactured this model for many years and in 2016 made an upgrade to it. The upgraded version has a longer runtime and maximum distance. If you have a deeper interest in that flashlight we really recommend you to read this article till the end.
Inside the box you'll find:
Flashlight
Fenix holster
Spare o-ring
Spare gap
User manual
Lanyard
Warranty card
How is Fenix PD32 different from their previous products?
As we said before Fenix upgraded their PD32 flashlight. They did it in 2016. Before the upgrade, Fenix PD32 had maximum light output 315 lumens and a maximum distance was 141 meters. Also, it had only three different modes/brightness outputs.
The upgraded version has a new LED bulb (XP-L HI light LED) with a maximum light output of 900 lumens.  Its maximum beam distance is 240 meters and it has 5 different modes. They also changed the design of the tail gap a bit. So basically they have made a new flashlight and kept the old name.
Is Fenix PD32 for you?
If you need a light and powerful flashlight, then Fenix PD32 is definitely one option to consider. It's perfect for fishing, hunting,  camping, and dog walking. Since it is impact resistant up to one meter, then if you drop it, it should not break. Although in our opinion impact resistance should be a bit bigger. The reason for that comes from the fact that we have accidentally dropped and broken so many flashlights. So the bigger the impact resistance, the better 🙂
PD32 has been given IPX-8 which means that it's waterproof up to 2 meters. This makes it perfect for fishing where you can easily by accident drop it into a river, pond or a stream.
Due to its size, it is also very suitable for using it as an emergency flashlight to carry along in your car. It fits perfectly your car's glove box or center console box. You will never know when you need a flashlight and if this tool is in your car then probably it will get the job done!
The experience
Fenix PD32 is a Premium flashlight. So if you buy it, you will expect to get a good product. When we got it, we weren't disappointed in that sense. It's really light and when you hold it in your hands, it really feels good.
The flashlight works with one 18650 or two CR123A batteries. One thing which we really don't like is that when you buy it, the box does not include batteries. So if you plan to buy it, make sure that you will also buy batteries.
As you see in the pictures, the PD35 has a round shape. But when you look it closer, you will notice that one part of it looks a bit like a nut. This is actually a very clever and useful design element. Due to that, the flashlight can not roll (eg. On the table).
User interface
Fenix PD35 has two buttons. One is on the side of the flashlight and the other on the tail gap. The tail button turns the light on and off whereas the side button changes the outputs and modes. The side button sticks out a bit. This may annoy some users but not me.
The tail button, on the other hand, does not stick out. This allows you to tail stand the flashlight which is quite handy. Basically, you can use the flashlight like a candle. Here must be said that the previous version (Before 2016) of PD32 was different. This model could not be put on a tail stand.
In addition, the tail button is quite stiff. So you really need to use a bit of force when pushing it. At first, it is a bit unusual but you will get used to it. The stiffness of the button is actually a good thing. It eliminates the possibility that you accidentally turn it on.
On the side, the flashlight has also a very stiff clip. With that, you can attach the flashlight on your belt, pants, etc. This can also be removed, but we must warn you that it takes a bit of effort.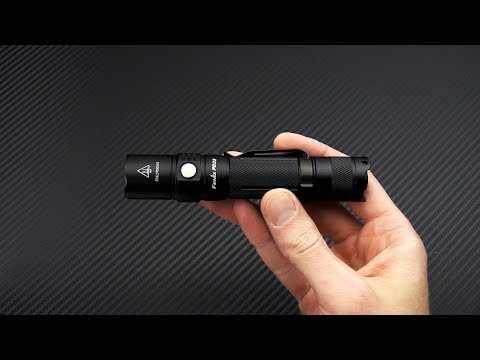 Brightness outputs
Fenix PD32 has five different brightness outputs. In addition to these, it has a strobe and SOS mode.
If you use one mode and after that turn off the flashlight, it remembers the used mode. So next time you turn it on, it is automatically switched to the last used mode.
Eco mode is perfect for situations where bright light is not needed. Its 5-lumen output is perfect for reading.
The low mode has a brightness level of 50 lumens. When using the flashlight indoors (e.g your home), this is probably the most used brightness mode. It does not make anybody blind and it's more than enough for everyday use.
Mid mode with its 150-lumen brightness level, in my opinion, is already a bit overkill in indoors. The brightness level is a bit too intense for that. But in outdoors its really good. When going for a  walk, then for the closer distances it is enough. At the same time, that mode has more than sufficient runtime before draining the battery.
High mode is already too bright and annoying indoors. But outdoors it's perfect. This mode gives clear visibility in dark conditions. The beam is wide and the reach is more than sufficient. Also, the runtime is very good with that mode.
Turbo mode has a brightness level of 900 lumens. In my opinion, you will use it only when you want to see at greater distances. The beam has a well-defined hotspot and little spill.
It's really bright and if you point it to somebody you will definitely blind her/him. So it's really good for self-defense and scaring away animals.
Runtime of Fenix PD32
The runtime of Fenix PD32 depends very much on the mode.
The flashlight has digitally regulated output. This means that, when the flashlight cannot maintain the selected mode anymore, then it automatically turns to lower brightness output.
In addition, it has a heat sensor inside. This means, that when the flashlight goes too hot, it automatically turns the light off.
The runtime of Fenix PD32 varies between 2 hours and 260 hours. To illustrate this, we have made a table where you can see the runtime of different modes. But bear in mind that these numbers are approximate and can vary depending on conditions.
| | | |
| --- | --- | --- |
| Mode | Brightness level | Runtime |
| Eco | 5 lumens | 260 hours |
| Low | 50 lumens | 37 hours 5 minutes |
| Mid | 150 lumens | 10 hours 25 minutes |
| High | 400 lumens | 4 hours |
| Turbo | 900 lumens | 1hours 55 minutes |
| Strobe | 900 lumens | No information |
| SOS | 50 lumens | No information |
Pros and Cons
Pros:
Lightweight
Good quality
Powerful beam
Handy size
Cons:
Batteries not included
Impact resistance only one meter
Price
Our rating
4,5 / 5
Final verdict about Fenix PD32
Fenix PD32 is a really good choice if you are looking for a flashlight that is powerful and fitted into a small shell. Its premium quality and five different brightness levels are more than sufficient for everyday use.
It is perfect for camping and hunting and also for just keeping in your car's glove box for emergency situations.
Also, it is reasonably priced.  So if you are in a need of a good and compact flashlight we definitely recommend this product. Just keep in mind, that you also need to buy the batteries for it separately 🙂