Best Kids Flashlight – 2020 top pics
Do you find yourself always having to change the batteries in your flashlight because your kids left them on the last time they were playing flashlight tag? Perhaps your almost teenage son is an aspiring outdoorsman or your little girl likes to light up her bedroom fort so she won't be scared. Maybe, it's time to buy them their very own beam of portable light? But what is the best flashlight to buy for your kids? Here is a brief overview of some of the top products available. So before you go running out and buying the first light you see on the shelf, we really recommend reading the overview below.
When shopping for a flashlight for a child, it is important to consider a few important details:
How old is the child?
Where and how will the light be used?
How much do you want to spend?
Below are some of the top-ranked flashlights for kids, as well as a few of the pros and cons for each.
If you are looking for a great light for your toddler, this fun flashlight is the winner for a variety of reasons. Firstly the Melissa and Doug Sunny Patch Giddy Buggy Flashlight is simple to operate, featuring a large switch located right on the top. Secondly, the switch is pretty large, making it easy to find and easy for them to operate using only one finger.
Also, this stylish light come in a few fun bug styles and colors, making it a great choice for boys or girls. In addition, it features six sturdy legs that allow it to stand freely next to your child so they don't even have to be holding it to light the room. It is easily suitable for both indoor and outdoor activities and super fun for any active toddler.
Pros
Easy-grip handle
Great Durability
Affordable
Freestanding
Colorful design
Cons
Does not turn off automatically
Batteries slightly difficult to install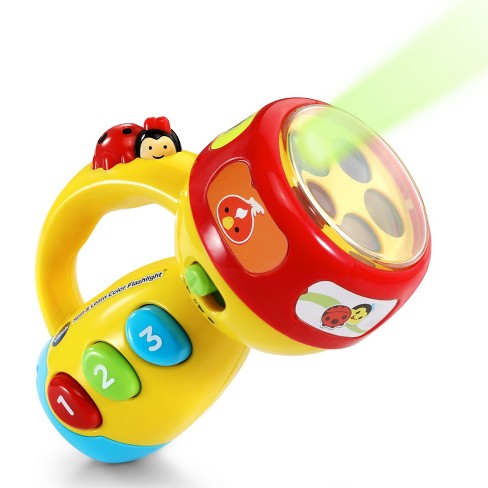 This flashlight is great because you are getting a good bang for your buck. Not only will it help light the way, but also teaches a variety of things including colors, animals, and sounds as well as 50 different songs.
This is a super cute light that features a chunky design with a big on/off button to assist with easy operation. In addition, it's easy to carry and a surefire win for any parent looking to provide light and fun in one product. This kids' flashlight runs on 3 AAA batteries and has an automatic off feature that turns off the light after 45 seconds. Therefore you won't have to keep replacing the batteries. While talking about age, this light is great for younger kids about age 3-6.
Pros
Automatically turns off after 45 seconds
Educational and entertaining
Easy to grip, hold, and turn on/off
Cons
Can't turn light on without making sounds
Not very bright
A fun flashlight for the slightly older child that likes to explore, the Dorcy 41-2509 is suitable for all-terrain life. This light features a bright 55 lumens bursting from 4 bright LED bulbs that throw light an impressive 31 meters. It has a rugged design, is impact resistant, and floats in water. This kids flashlight is powered on 3 AA batteries that provide a run time of more than 8 hours. It has a built-in tail clip, making it easy to attach to belt or backpack and a slip-free grip.
This light is perfect for your aspiring camper or hiker or even great to keep in a nightstand in case of a power outage. This light is great for fun or practical use and comes in a few colors which is great for boys or girls.
Pros
Waterproof and floats
Built in clip
Bright
Durable
Cons
Very bright if shined in eyes
Does not use rechargeable batteries
This light can be a great companion for any kid's adventure. It only weighs 12.8 oz., fits in your pocket and runs on 3 AAA batteries for up to 4 hours. This kids' flashlight has a glowing ring that comes in 4 different colors.  This is great because you can buy them many kids and they will not get confused about whose is whose. These are great for party favors, flashlight tag, shadow puppets or anything outdoors like hide and seek or camping. They also feature a zoomable wide to a narrow beam and a wrist strap which adds to the versatility and makes them super convenient.
      Pros
Easy to find in dark because ring glows
Three light modes
Zoomable
Compact and durable
Wrist strap
Cons
Does not use rechargeable batteries
Does not turn back on in same mode
These lightweight mini flashlights are great to take anywhere. Going on a class trip? Walking the dog?  These handy lights come with a lanyard that lets you hang the light around your neck, therefore you are not likely to lose them. This makes them a great idea for children of any age.
They come in 6 different colors and are made of aluminum so they are pretty durable. Also, they have 9 LED bulbs so they are super bright, lightweight, and durable. They only have one brightness setting so kids don't have to worry about toggling through to get to the right setting. This flashlight runs on 3 AAA batteries for about 30 hours so they are pretty economical too. These are perfect for smaller kids, older kids, and even large groups of kids. They make a great gift and have a two-year warranty, no questions asked making them a surefire investment for your young one.
Pros
Lanyard to wear around neck
Comes in many colors
Runs for 30 hours
Lightweight
Cons
Non-rechargeable batteries
Now that you have an overview of some of the best flashlights available for your kids, there are just a few other things to consider:
How Old is Your Child?
First, depending on the age of your child, you want to make sure you are investing in the right light for their age group. For your toddler or small child, the Melissa and Doug Sunny Patch Giddy Buggy Kids Flashlight or the VTech Spin and Learn Color Kids Flashlight would obviously be your best bet. Although these are not a good suggestion for older children, still you might be able to buy some of the others for younger children, such as the WDT Pro LED Mini which could still be used for a smaller child since the lanyard will help them not lose it very easily.
How and Where Will the Light be Used?
Next, not everyone uses a flashlight for the same purpose. When buying your child a flashlight, ask yourself, what will they be using this light for? If your answer is camping or hiking, then the Dorcy 41-2509 would probably be your best bet. If they are going to play flashlight tag or make shadow puppets, you should probably go with the BYBLIGHT or the WdtPro LED Mini, and of course, if you have just a wee toddler you would go with the Melissa and Doug Sunny Patch Giddy Buggy Kids Flashlight or the VTech Spin and Learn Color Kids Flashlight.
What is Your Budget?
Lastly, how much do you really want to spend? What qualities are important to you? If you are looking for a quality flashlight for under $20, any of these flashlights will do. While there are more expensive options, all of these lights will do a good job of providing some fun for your child while lighting up the room.